Catholic Ministry Appeal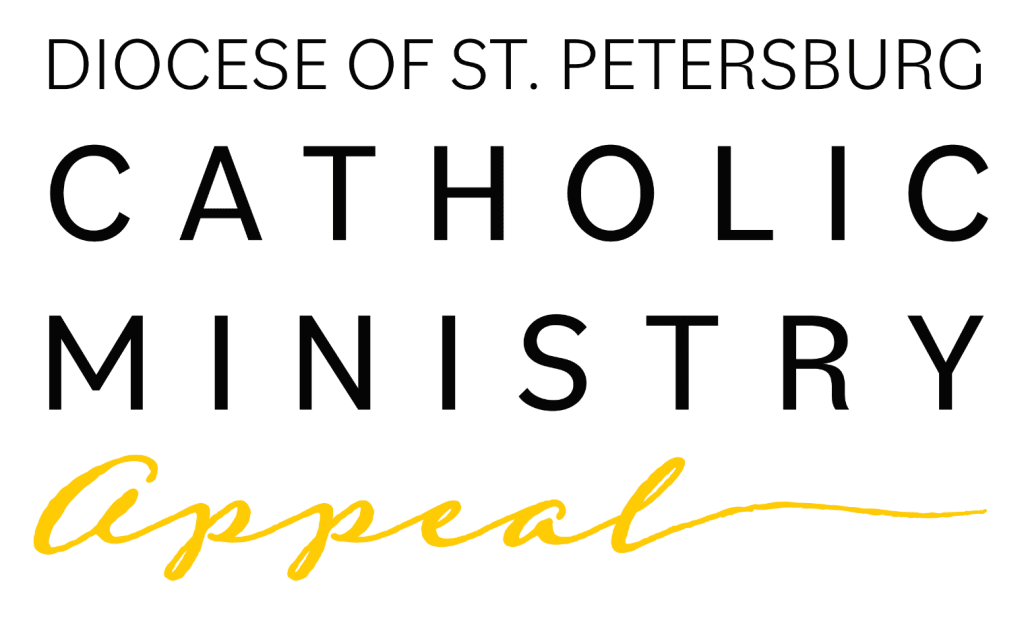 Last year, Bishop Parkes, diocesan leadership and a task force of experienced pastors studied how our parishes work together to support our local Church. For more than 20 years, the Annual Pastoral Appeal
(APA), had supported all parts of our diocesan budget: administrative, business, leadership as well as ministry, programs and outreach. Parishes worked to reach their goal, sometimes all year. But if not met, the balance was paid by the parish. The Appeal Task Force recognized how difficult this was for parishes. They also discerned that our people wanted to support the good work of our Catholic Church.
After much prayer, consultation and review, the task force voted unanimously to retire APA, and start over, separating how different areas would be funded. Their innovative plan calls for the leadership of our local Church to be supported by a much smaller assessment of 2%, and the administrative functions such as accounting and human resources to be funded through interest earnings on a responsibly invested trust.
And finally, it invites our parishioners to participate in the new Catholic Ministry Appeal each year to fund what most consider to the traditional ministries and programs of our diocese.
Click Image Below to Watch Video
Catholic Ministry Appeal – Baptism of the Lord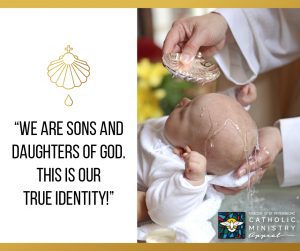 Jesus never sinned. So why did he get baptized?
To be close to us. Instead of the waters cleansing Jesus from original sin, we can think of Jesus's submersion into the river Jordan as Him baptizing the water. By taking part in this ritual, Jesus elevates it. He raises it to the level of a sacrament, a moment when we know that He will be present, through which we can encounter Him. That's what happened when each of us were baptized. We became Christ's brothers and sisters.
And if we're joined to Jesus in baptism, then what he hears after coming ashore also applies to us: "You are my beloved son; with you I am well pleased." Through baptism, we become sons and daughters of God. This is our true identity!
Reminding ourselves of this identity—for instance, when we make the sign of the cross with Holy Water—transforms the way we live. If God is Our Father, it means our life is a gift. And it means He's inviting us into his work of generosity and love. How does this change the way we think about helping our parish community? About volunteering our time and talents? About supporting the Catholic Ministry Appeal? Pray about it and see!
Catholic Ministry Appeal – Love is Serving Others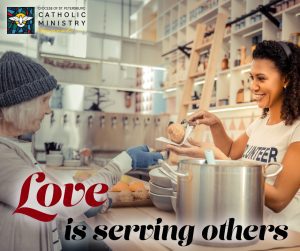 True love responds to the earthly and everyday needs of our community. You can show your love for your parish community by supporting our Catholic Ministry Appeal.
If you had to identify the most important priorities for the Son of God, Savior of Mankind, to accomplish during his earthly mission, saving a wedding feast by turning water into wine probably wouldn't be at the top of the list. So what is Jesus doing in today's Gospel?
Among other things, he's demonstrating that love responds to earthly and everyday needs. It doesn't just look for the big gestures or the grandiose displays—it looks for concrete opportunities. If love is true love, its focus isn't self-aggrandizement, but actually serving the good of the other—like Christ does through something seemingly as mundane as providing good refreshment for the guests at a wedding.
We're called to love like Jesus does: by responding to the concrete needs of our community. Contributing to our Catholic Ministry Appeal might not be glamorous or grandiose—but you'll be helping meet the everyday needs of your parish when you do. Ask Jesus to show you how He wants you to love in this way and see where it leads you!
Catholic Ministry Appeal – Share What Is Meaningful To You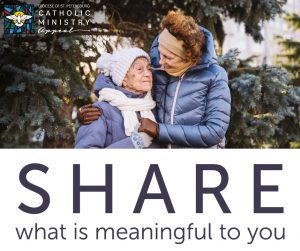 Jesus brings glad tidings to a world in need—and He does so through our parish community. Support our good work by contributing to the annual appeal today!
Today's Gospel is a transformational moment for Jesus. After standing up in the synagogue and reading Isaiah's prophecy about the coming of one who will free the captives, heal the blind, and bring glad tidings to the poor, Jesus tells those gathered: "Today the Scripture passage is fulfilled in your hearing." Jesus gives his listeners any other interpretation: He is the Messiah. He is the one who fulfills all the Old Testament prophecies.
Do we believe this? Do we believe that Jesus really can bring freedom and healing and spiritual richness, to us and to the world? If so, then how important is His Church? How important is the liturgy, the sacraments, acts of Christian service, learning the Church's teachings, and all the other good things we do at our parish?
Our parish activity is an essential way that Christ continues to fulfill these ancient prophecies, pouring His love out into the world. Help this essential work continue by supporting our diocese's Catholic Ministry Appeal today.