Becoming Catholic and Adult Confirmation
Espiritu Santo Parish provides a number of faith formation opportunities for adults interested in deepening their faith, spirituality and prayer life. These include programs for adults who want to become Catholic, those who need to make their Confirmation, or those who want to study and learn more about our Catholic Christian Church and faith.
The Rite of Christian Initiation of Adults (RCIA) is primarily for those who have not been baptized and want to enter the Catholic Church. Through our formation program, they learn about the Catholic Church and prepare to receive the three Sacraments of Initiation – Baptism, Eucharist and Confirmation – at the Easter Vigil Mass. Our weekly formation sessions are on Monday evenings beginning in September.
We also include in RCIA some adults who were baptized as Catholics or in another Christian faith and desire to receive the Sacrament of Confirmation and full communion with the Catholic Church.
Other baptized Catholics and Protestants prepare individually for a period of time based on each person's individual needs. We schedule three masses a year for adult Confirmations – the second Sundays of Advent and Lent, and in the spring when the bishop visits our parish for confirmation with our religious education students.
If you are interested in any of these programs, or if you have been away from the Church and just want to know more about the Church, please call Deacon Steven Girardi in the Church Office at 727-726-8477, ext. 310
Scripture study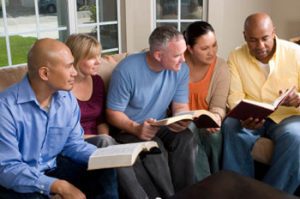 One way our adult parishioners seek to grow in faith and understanding our Catholic traditions and the Word of the Lord is through group scripture study. Most recently, we have gathered on Wednesday mornings to explore and discuss various aspects of Holy Scripture, including the Gospel of Luke, the Acts of the Apostles, and "Life in the World to Come," an overview of our understanding of heaven from the Old Testament to the New Testament. Deacon John and Deacon Steven have led these sessions, but we always are looking to expand our scripture study opportunities and to involve more people, including those qualified to lead a study group. For information, contact Deacon Steven at 727-726-8477, ext. 310
LPMI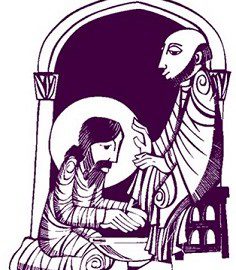 For Catholics interested in deeper study about our faith or in learning more about ministry, the Diocese of St. Petersburg offer a formation program called the Lay Pastoral Ministry Institute. LPMI is a four-year program that includes an informal year of discernment and three years of formal academic training and spiritual growth.
The Year of Discernment consists of eight Saturday sessions from 9:30 a.m. to 3:00 p.m. at Christ the King Parish, 821 S. Dale Mabry Highway, Tampa. Classes run from September through April.
LPMI provides education and formation for laity in the Catholic faith. The program is designed to enhance personal faith and knowledge to enrich personal ministry. Anyone interested in attending the LPMI Year of Discernment may find the registration form and program information on the LPMI web site at: https://www.dosp.org/lpmi/
Or, you may call the LPMI office at 727-344-1611, ext. 5458. Registrations are due in the LPMI office in August.