Becoming Catholic and Adult Confirmation
Espiritu Santo Parish provides a number of faith formation opportunities for adults interested in deepening their faith, spirituality and prayer life. These include programs for adults who want to become Catholic, those who need to make their Confirmation, or those who want to study and learn more about our Catholic Christian Church and faith.
The Rite of Christian Initiation of Adults (RCIA) is primarily for those who have not been baptized and want to enter the Catholic Church. Through our formation program, they learn about the Catholic Church and prepare to receive the three Sacraments of Initiation – Baptism, Eucharist and Confirmation – at the Easter Vigil Mass. Our weekly formation sessions are on Monday evenings beginning in September.
We also include in RCIA some adults who were baptized as Catholics or in another Christian faith and desire to receive the Sacrament of Confirmation and full communion with the Catholic Church.
Other baptized Catholics and Protestants prepare individually for a period of time based on each person's individual needs. We schedule three masses a year for adult Confirmations – the second Sundays of Advent and Lent, and in the spring when the bishop visits our parish for confirmation with our religious education students.
If you are interested in any of these programs, or if you have been away from the Church and just want to know more about the Church, please call the church office at 727-726-8477 and leave a message or email Sue Sferra at sue@espiritusanto.cc
Click Here for Information aboutOCIA/RCIA & Adult Confirmation
Have you thought about becoming Catholic?
If you, or perhaps someone you know, is interested becoming a Catholic, making Confirmation, returning to the Church or just curious about our faith and religion, please consider joining us at our Rite of Christian Initiation of Adults (RCIA) sessions.
RCIA is a formation program that helps to prepare adults for full communion with the Roman Catholic Church through the Sacraments of Baptism, Confirmation and Holy Communion during the Easter Vigil Mass. It primarily is for those who are not baptized, but adults baptized as Catholics or in other Christian faith traditions are welcomed, as well.
We meet from 7-8:30 p.m. Mondays from September through the Easter Season, with several breaks for holidays. The specific starting date and place where we will gather are being determined, but will be publicized on this site and in our weekly church bulletin.
RCIA is the opportunity to explore the Catholic faith to see if it is for you and to form community. There is no obligation and no cost – only your desire.
At our weekly sessions, we explore and discuss the Catholic faith, traditions, practices, liturgy and theology that help to draw us into a deeper relationship with Jesus Christ – the savior of the world and the reason for our Church. Along the way, we share our thoughts, questions and concerns as we learn more about ourselves, our spirituality and the Church. Most who join us will come into the Church at the Easter Vigil; some may decide it is not the right time for them and choose to wait.
Our group includes people from all stages of life: middle or high school teenagers, college students, young adults, parents, singles, working adults and retirees. They are husbands or wives of Catholics, or persons planning to marry a Catholic. Some have been attending Catholic churches for years with a spouse or relative. Others have been searching for a faith tradition and have found a home here.
Additionally, we welcome adults who already are baptized – as Catholics or in most Protestant traditions – and want to prepare for the Sacrament of Confirmation and full communion with the Catholic Church. We have confirmation for adults at the Easter Vigil, but most often it is done in small groups during a Saturday or Sunday Mass.
So if you, or someone you know, is interested, please contact Beth Loomis in the parish office at (727) 726-8477 or by email at loomisbeth@gmail.com
Scripture study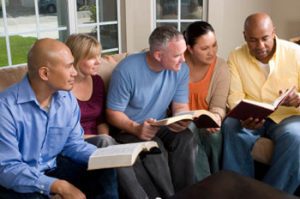 One way our adult parishioners seek to grow in faith and understanding our Catholic traditions and the Word of the Lord is through group scripture study. Most recently, we have gathered on Wednesday mornings to explore and discuss various aspects of Holy Scripture, including the Gospel of Luke, the Acts of the Apostles, and "Life in the World to Come," an overview of our understanding of heaven from the Old Testament to the New Testament. Deacon John is leading these sessions, but we always are looking to expand our scripture study opportunities and to involve more people, including those qualified to lead a study group. For information, call the church office at 727-726-8477.
LPMI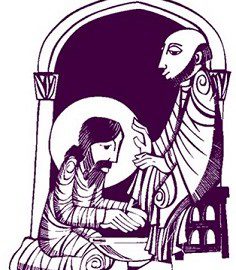 For Catholics interested in deeper study about our faith or in learning more about ministry, the Diocese of St. Petersburg offer a formation program called the Lay Pastoral Ministry Institute. LPMI is a four-year program that includes an informal year of discernment and three years of formal academic training and spiritual growth.
The Year of Discernment consists of eight Saturday sessions from 9:30 a.m. to 3:00 p.m. at Christ the King Parish, 821 S. Dale Mabry Highway, Tampa. Classes run from September through April.
LPMI provides education and formation for laity in the Catholic faith. The program is designed to enhance personal faith and knowledge to enrich personal ministry. Anyone interested in attending the LPMI Year of Discernment may find the registration form and program information on the LPMI web site at: https://www.dosp.org/lpmi/
Or, you may call the LPMI office at 727-344-1611, ext. 5458. Registrations are due in the LPMI office in August.