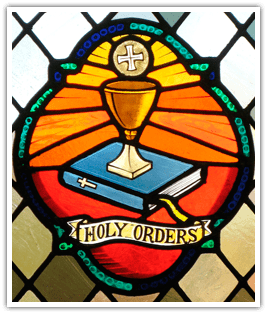 While the Roman Catholic Church teaches and believes that all people are called to holiness, some are called to ordained vocations to teach and spread the Gospel as servant leaders of the Church. These are called Holy Orders, and those who receive them are "ordained."
The Church has three levels of Holy Orders – bishops, priests and deacons.
Bishops are assigned by the pope to lead, or to shepherd, a diocese that is made up of many individual parishes, or churches. The bishop leads and governs the ordained and lay people of his diocese. The principal bishop of the worldwide Roman Catholic Church is the Bishop of Rome, most commonly known as the pope. Our current pope is Francis.
Priests are ordained to serve the faithful in more direct ways. Many priests serve in parishes, as the pastor or a parochial vicar, or associate pastor, where they lead the people, guide the church and celebrate masses and sacraments. Some serve in religious orders, such as the Society of Jesus (Jesuits), like Pope Francis, Dominicans, Benedictines or Franciscans, for instance. Those priests serve in places such as schools and universities, monasteries, religious communities or special ministries such as hospitals or working with the poor.
Permanent Deacons are ordained by and for the bishop of their diocese. They are assigned to parishes to assist the pastor and to serve the people of the parish in sacraments, sacrament preparation and any number of ministries. The word Deacon comes from the Greek, "Diakonia," which means to serve. Deacons are ordinary ministers to proclaim the Gospel during the Mass and are ministers of the cup, the precious blood of Christ. Many are married and have work professions outside of the Church.
If you think you may be called to Holy Orders, please contact the Office of Vocations or the Office of the Diaconate at the Diocese of St. Petersburg for additional information.