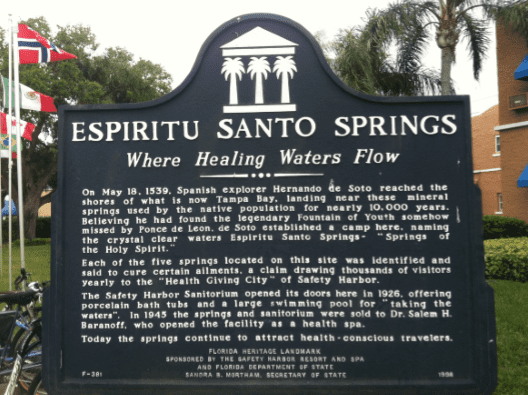 The history of Espiritu Santo began with the arrival of the Spanish and the Catholic Faith to Florida's West coast in 1539 by Hernando Desoto. In the search for wealth and the mythical "Fountain of Youth", Desoto landed on the shores of what is now known as Tampa Bay on Pentecost Sunday, where he discovered five mineral springs near a large Tocabago Indian Village. He named the body of water Bahia Espiritu Santo (Bay of the Holy Spirit) in honor of the holy day and because the inhabitants of the nearby Indian village believed the springs had healing properties, a legend that persists today.
After several failed attempts by several missionaries at establishing a mission in Florida, Friar Luis Cancer arrives in Bahia Espiritu Santo in 1549, only to be martyred a short time later. Fra. Cancer is prominently featured in the stained glass over the main doors of the church.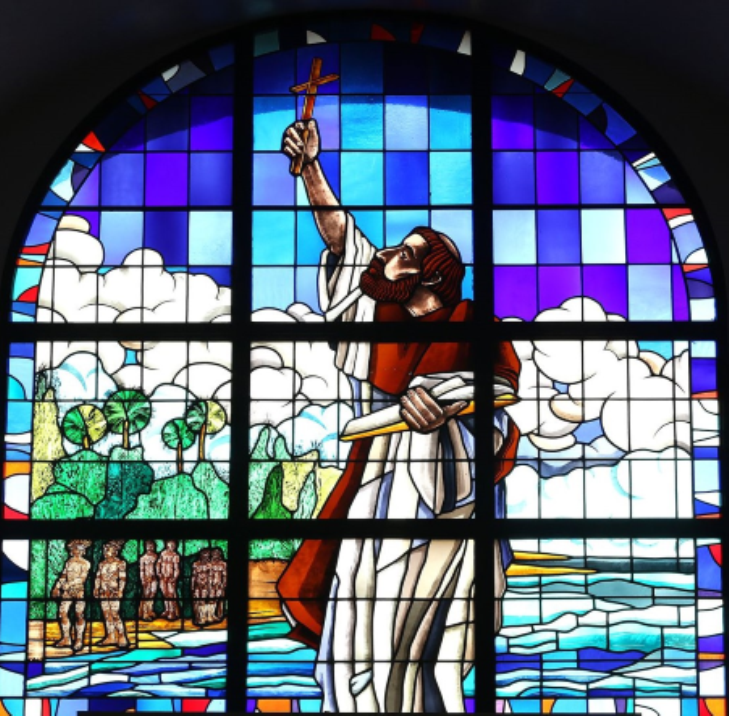 The first blockhouse mission was finally built in 1567, by Pedro Menendez. He arrives with 30 soldiers and a Catholic Priest whom he leaves behind to continue their work. The Indians soon destroyed the mission and drove the Spaniards out but the seeds of faith had been planted at the spring.
Safety Harbor (formerly known as Worth's Harbor and Green's Springs) was first homesteaded by Count Odet Philippe, a French nobleman who is credited with introducing the grapefruit to Florida in 1823. The name Safety Harbor originated from the early 18th century when pirates were a substantial influence in the area. Once ships reached this area of the bay, all threats from pirates were gone, and it was commonly referred to as a "Safe Harbor".
400 years after the arrival of the Spanish, the seed of faith established by the early mission found expressions under the direction of Msgr. John McNulty, V.G. Responding to the need for a Catholic parish in the growing community, another mission church was established in 1960 on the present site and the first Masses were celebrated in Safety Harbor Elementary School. The mission thrived and it soon became apparent that a church building and parish hall were needed. On Christmas Eve, 1964, the first Mass was celebrated in Espiritu Santo Catholic Church.
The parish continued to grow rapidly and a new bigger church was needed by the mid 1980's. In 1987, the first Mass was celebrated in the present church , which seats approximately 900. The original church is now the Parish Center.
The Espiritu Santo Catholic School was dedicated in 2001. The school serves Pre-K 3 through the 8th grade and in 2019 was awarded the National Blue Ribbon of Excellence.
In the life of the Espiritu Santo Faith Community, the seed of faith planted by the Spanish Missionaries in 1539 has borne much fruit and continues to flourish.
| | |
| --- | --- |
| Timeline | |
| 1539 | Hernando DeSoto discovers Bahia Espiritu Santo |
| 1549 | Fra. Luis de Cancer arrives and is soon martyred |
| 1567 | Pedro Menendez de Aviles came to Espiritu Santo Springs to establish a mission |
| 1960 | The mission church of Espiritu Santo was established in Safety Harbor. |
| 1964 | The first Mass was celebrated in Espiritu Santo Catholic Church. |
| 1987 | The first Mass was celebrated in the present-day church. |
| 2001 | Espiritu Santo Catholic School was dedicated. |