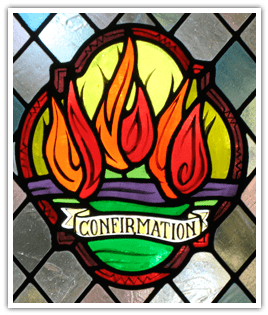 Confirmation is one of the Church's three initiation Sacraments and the one at which a young person or an adult is anointed into full communion with the Roman Catholic Church.
Sealed with the Holy Spirit by the laying on of hands by the bishop or a priest and anointed with Sacred Chrism – the same holy oil used to anoint bishops, priests and deacons – newly confirmed Catholics proclaim their desire to accept and to live by the teachings of Jesus Christ and the Holy Catholic Church.
This sacrament is conferred in a number of ways.
For children baptized as infants, Confirmation typically comes at age 13 or older and is the last of three initiation sacraments – baptism, Holy Communion and confirmation. But often people will be confirmed as adults – those baptized in other faith traditions who want to become Catholic or who missed confirmation as a teenager for any number of reasons.
And also, for unbaptized adults who want to become Catholic, confirmation comes after baptism and before Holy Communion when they are initiated into the Church during the great Easter Vigil Mass. These people, known as Catechumens, are age 7 and above, and come to the vigil after a period of formation in the Rite of Catholic Initiation of Adults (RCIA).
Our RCIA group meets weekly beginning in September, with occasional breaks, to prepare our unbaptized Catechumens for the Easter Vigil Mass. Special age-appropriate considerations are made to prepare youths, as needed.
Anyone interested in RCIA and becoming Catholic, or adults who want to make their confirmation, may contact Sue Sferra in the parish office at (727) 726-8477, ext. 1312, or by email at sue@espiritusanto.cc
Our religious education program prepares students, usually as eighth graders, to make their confirmation at Espiritu Santo in the spring with the Diocese of St. Petersburg Bishop Gregory Parkes. For additional information, contact Sue Sferra, director of Religious Education, at (727) 726-8477, ext. 1312 or by email at sue@espiritusanto.cc