RCIA & Adult Confirmation
Have you thought about becoming Catholic?
If you, or perhaps someone you know, is interested becoming a Catholic, making Confirmation, returning to the Church or just curious about our faith and religion, please consider joining us at our Rite of Christian Initiation of Adults (RCIA) sessions in our parish.
Our RCIA team is currently meeting at 7 p.m. Mondays in the Parish Center for anyone who would like to join us.
RCIA helps to prepare adults for full communion with the Roman Catholic Church through the Sacraments of Baptism, Confirmation and Holy Communion during the Easter Vigil Mass, April 3, 2021.
We meet weekly from about 7-8:30 p.m. Mondays through the Easter Season, with several breaks for holidays.
As with most things these days, there are some necessary precautionary changes in our formation sessions because of the Covid-19 virus.
We require people to wears masks, and we are seated safely distanced from each other, similar to the way to celebrate the Mass on weekends and weekdays.
RCIA is the opportunity to explore the Catholic faith to see if it is for you and to form community. There is no obligation and no cost – only your desire.
At our weekly sessions, we explore and discuss the Catholic faith, traditions, practices, liturgy and theology that help to draw us into a deeper relationship with Jesus Christ – the savior of the world and the reason for our Church. Along the way, we share our thoughts, questions and concerns as we learn more about ourselves, our spirituality and the Church. Most who join us will come into the Church at the Easter Vigil; some may decide it is not the right time for them and choose to wait.
Our group includes adults from all stages of life: middle or high school teenagers, college students, young adults, parents, singles, working adults and retirees. They are husbands or wives of Catholics, or persons planning to marry a Catholic. Some have been attending Catholic churches for years with a spouse or relative. Others have been searching for a faith tradition and have found a home here.
Additionally, we welcome adults who already are baptized – as Catholics or in most Protestant traditions – and want to    prepare for the Sacrament of Confirmation and full communion with the Church. We have confirmation for adults at the Easter Vigil, but most often it is done in small groups during a Sunday Mass. At Espiritu Santo, we typically schedule confirmations for the second Sundays of Advent and Lent, as well as when Bishop Gregory Parkes comes in the spring for middle school confirmations.
So if you, or anyone you know, is interested, please join us on Mondays. If you cannot attend at that time, want more information or would like to talk individually, please call the parish office at (727) 726-8477 or by email at loomisbeth@gmail.com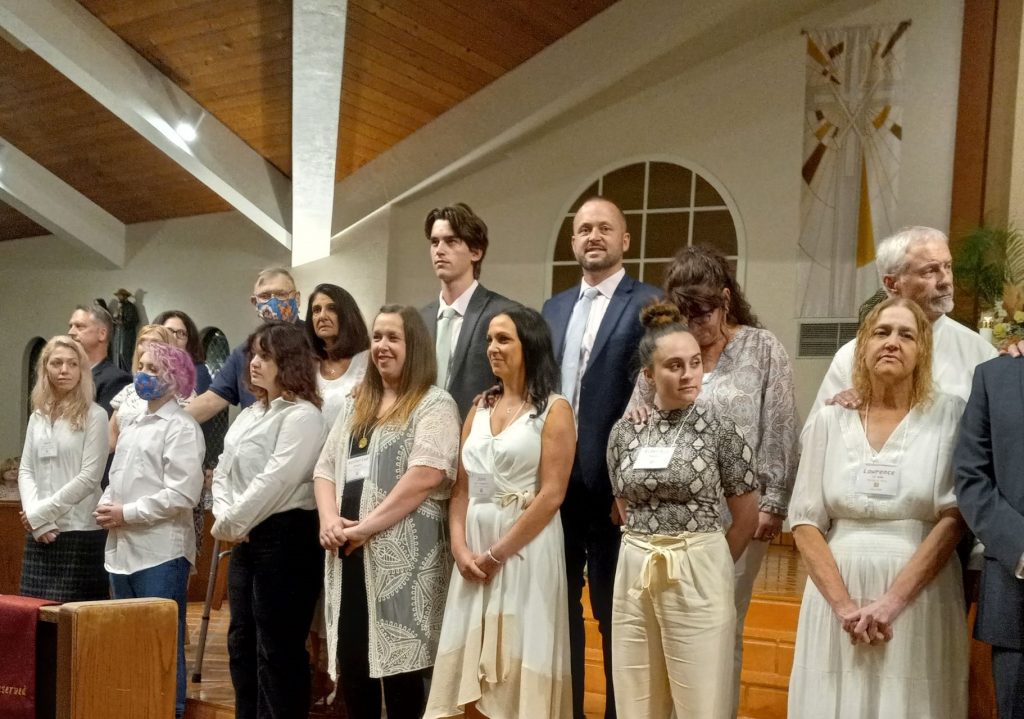 The Rite of Christian Initiation of Adults (RCIA) is a faith formation for those seeking full communion with the Roman Catholic Church. This includes adults who are not baptized, those baptized in another faith tradition, Catholics who have not completed their initiation Sacraments, and children age 7 and above who have not been baptized.
We also welcome all Catholics who wish to deepen their understanding of our Church or want to share their experiences with those making this journey. Many of our parishioners volunteer on our RCIA ministry team and serve as sponsors for our Candidates and Catechumens who will enter the Church during the Easter Vigil or at other confirmation dates.
We meet from 7-8:30 p.m. Mondays, from September through Pentecost, with occasional breaks for holidays.
Our mission leads us to the great Easter Vigil, during which our Church each year welcomes new Catholics into our faith community as we celebrate the Resurrection of our Lord – the pinnacle of our faith and Liturgical Year.
Our formation sessions include lessons and presentations on a variety of topics, from faith and prayer through sacraments, incarnation and the resurrection of our Lord. The sessions are designed to encourage discussion, to answer questions and to explore our faith and traditions as we grow closer to Jesus and discern his call for each of us. Our sessions typically conclude with reflection and conversation about the Scripture readings for the following Sunday.
We begin with several inquiry sessions that allow participants to learn and to ask questions as they discern whether they feel called to the Catholic Church.
The formation costs nothing but your time, you heart and your devotion.
If you feel God may be calling you to this journey, or if you simply have questions, please join us in the RCIA, or contact Beth Loomis at loomisbeth@gmail.com
The Faith Journey
The Rite of Initiation of Adults proceeds along the following steps:
Inquiry or Pre-Catechumenate
This is a time to explore, to ask questions and to become acquainted with the Catholic faith and with each other as you discern God's presence and call in your life.
Catechumenate
Formation continues with more teaching about the Church, its beliefs and practices, and what is means to be a Catholic Christian as we come to know our Lord and Savior, Jesus Christ, more intimately and examine our lives as disciples.
Purification and Enlightenment
This time includes examination and focus on where you are and how you live your life. It is a period of reflection and purification that coincides with the Lenten season. The elect are working to remove impediments in their relationships with God and others.
Celebration of the Sacraments of Initiation
Baptism, Holy Eucharist and Confirmation – the Rites of Initiation – are conferred at the great Easter Vigil Mass for those who are not baptized. Confirmations for adults already baptized are scheduled at the Easter Vigil, the second Sunday of Advent in December, and the second Sunday of Lent in February and in the spring when Bishop Gregory Parkes plans to visit our parish for Confirmation with religious education students.
Mystagogy
This is an important period from Initiation to Pentecost to deepen your Christian experience, for spiritual growth and to explore what it means to be an active Catholic. As a neophyte, you are introduced more fully into the life and unity of the faith community and the call to various ministries. The journey of faith continues as we are called to live our baptismal promise as disciples and the hands and feet of Christ.