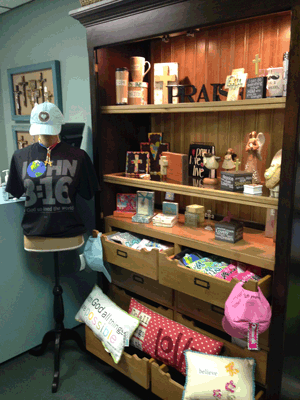 The Gift Shop @ Espiritu Santo Catholic Church & School is a cross-generational ministry of the Espiritu Santo parish community that is dedicated to providing faith-based gifts and religious items to parishioners and guests alike.
We're conveniently located just inside the main entrance to the Church. We're here when you need to shop for one of life's many celebrations – like the arrival of a new baby, a wedding anniversary, or First Holy Communion. But we also carry many items that will help you channel inspiration and peace in your own home. From decorative items that keep us focused on faith, to rosaries and jewelry, to prayer guides and devotionals – The Gift Shop can help with items to support you along your walk with God.
Stop by often, as our merchandise is always changing! The Gift Shop carries many seasonal items, as well as special gift items for sacraments such as Baptism, First Holy Communion and Confirmation. We carry greeting cards for most every occasion, and also have a selection of retail gift cards for sale – birthday shopping for friends and loved ones has never been easier!
Every sale made at The Gift Shop supports the education ministry at Espiritu Santo Catholic Church – the shop is operated by Espiritu Santo Catholic School's Home & School Association, and proceeds from The Gift Shop benefit our Parish School's operating budget.
Come see what's new at The Gift Shop … Share the Spirit, Celebrate our Faith!
If you would like to see our door open more, please consider volunteering at the gift shop!
You may can contact us at espiritusantogiftshop@gmail.com
The Gift Shop Hours : (closed during Mass)
Wednesday: 7:45a.m. – 9:45a.m
Wednesday–Friday: 11:45a.m. – 1:15p.m
Saturday: 3:30p.m. – 5:30p.m
Sunday: 7:45a.m. – 1:30p.m.