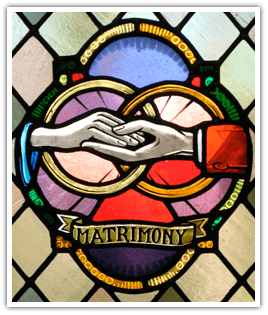 Marriage Preparation
If you are planning to be married in the Catholic Church, congratulations and welcome!
The Sacrament of Matrimony is a special and joyful event for couples and for the Church as you begin your married life in union with Jesus Christ and our community of faith. We are pleased you have chosen to have your wedding at Espiritu Santo Catholic Church.
Our priests and deacons are eager to help you prepare for your wedding mass or ceremony. We welcome the opportunity to meet with you, to answer questions and to help you to plan your Catholic wedding. Planning a wedding is a hectic time and we are happy to be with you along the way.
To begin your wedding plans, please contact Michelle Ishman at the parish office at (727) 726-8477 ext. 1303. She will arrange for you to meet with a deacon or a priest to begin your preparation.
We recommend that you begin at least six months before your wedding date, according to the policy of the Diocese of St. Petersburg, to allow adequate time to prepare. But do not hesitate to contact us if you require other arrangements.
May God bless you, and we look forward to sharing this special time with you.