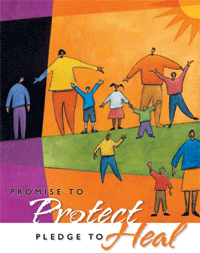 The Parish of Espiritu Santo and the Diocese of St. Petersburg must ensure that children and youth who worship, study, or participate in activities sponsored by the Parish and Diocese can do so in the safest and most secure setting possible. Parents and caretakers must have confidence in the Parish and Diocese before they will allow their children to become involved in church activities. The Safe Environment Programs of the Diocese of St. Petersburg are designed to instill that confidence and are encouraged by insurance and risk management companies as well.
This same concern applies to our vulnerable adults. A vulnerable adult is an individual who is 18 years or older whose ability to perform the normal activities of daily living are extremely limited or whose ability to provide for his or her own care or protection is impaired due to a mental, emotional, physical, developmental disability dysfunction, brain damage, or the infirmities of aging.
SEP Certification Instructions :
Go to https://stpetersburg.CMGconnect.org to complete your new online safe environment curriculum. (Instructional Flyer)
Create a new account by completing all the boxes. This includes address, primary parish, and how you participate at your parish or school. If you have questions please contact your parish/school administrator.
Start the Safe Haven—It's Up to You training curriculum.
Click the 'Dashboard' tab to return to the main menu.
Download and print your certificate upon completion or, email it directly from the site to the office or school you are associated with.